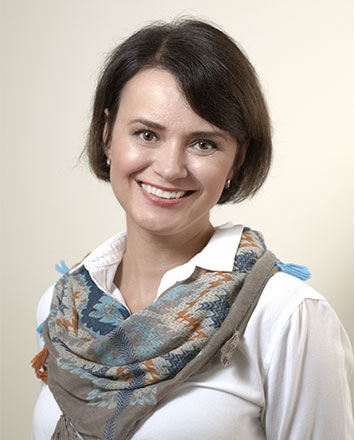 Clinical Psychologist in Ealing, West London
Specialist interests: • Insomnia, chronic pain, body focused repetitive behaviours, bereavement, major life transitions & women's health
Dr Ewa Przytula is an accomplished Clinical Psychologist serving the Ealing community. With her extensive credentials and commitment to excellence, Ewa embodies the essence of professional expertise and compassionate care.
Ewa is a registered Clinical Psychologist with the HCPC, solidifying her dedication to the highest standards of practice. Her accolades extend further with accreditation from the BABCP as a Cognitive Behavioural Psychotherapist, as well as recognition from IPT-UK as an Interpersonal Therapist. Her journey spans over two decades of delivering individual and group therapy, and her expertise flourished within the National Health Service (NHS), specifically the acclaimed IAPT (Improving Access to Psychological Therapy) programme since 2009.
Central to her practice is her profound experience in assessing and treating clients grappling with a spectrum of issues, prominently depression and anxiety. From Obsessive Compulsive Disorder (OCD) and Panic Attacks to Low Self Esteem, Social Anxiety, Generalised Anxiety Disorder (GAD), Post-Traumatic Stress Disorder (PTSD), and phobias, Ewa's capabilities are truly encompassing.
Ewa's professional journey commenced in Poland, where she completed her Clinical Psychology training in 2003. Her thirst for knowledge led her to secure a postgraduate Diploma in Cognitive Behavioural Therapy from Royal Holloway University in 2012. Furthermore, her Interpersonal Therapy (IPT) Practitioner training under the guidance of Anna Freud, National Centre for Children and Families in 2017, stands as a testament to her commitment to multifaceted therapeutic approaches. Most recently, in 2021, she added Cognitive-Behavioural Therapy for menopausal symptoms training with the British Menopausal Society to her impressive resume.
Ewa's fervor is particularly pronounced in her passion for supporting women navigating life transitions. She specializes in aiding women during significant stages such as pregnancy, Postnatal Depression (PND), perimenopause, menopause, post-menopause, as well as addressing Premenstrual Syndrome (PMS) and Premenstrual Dysphoric Disorder (PMDD). Her unwavering commitment to helping women and their partners navigate these profound physical and mental shifts sets her apart.
Known for her warmth and thoughtfulness, Ewa approaches therapy collaboratively, aligning with her clients to help them achieve personal goals and overcome challenges. Her approach is as unique as the individuals she serves, reflecting her dedication to crafting tailored interventions that align with her clients' needs. Ewa is equally proficient in offering therapy in person, as well as remotely through telephone or video sessions. Her linguistic skills extend to both English and Polish, ensuring seamless communication with her clients.
At our clinic in Ealing, London, Dr Ewa Przytula stands as an exceptional beacon of expertise and compassion. Her therapeutic philosophy, characterized by her dedication to individual empowerment and well-being, reflects her commitment to fostering enduring positive change.

Gunnersbury Park, Popes Lane, Ealing, W5 4NH